Opening Ceremony Celebrations
The official Opening Ceremony of the clubhouse and 18 holes was graced with the presence of various dignitaries and important people from around the world. Invitations were sent to many countries including Australia, Thailand, Hong Kong, Canada, France, USA, Korea, UK and Singapore to name a few.
The Club is Honoured to Have , Mr Tian Ji-yun, Vice-Chairman of People Congress on Standing Committee, Mr Ho Hau Wah, Chief Executive of Macau SAR, Mrs Rita Fan, President of Legislative Council of Hong Kong, Mr Jiang Jin, Mayor of Jiangmen, Mr Zhu Zen-lin, Chief Officer of People Congress of Guangdong Province, Dr Cheng Yu Tung, Chairman of New World Group, Mr Jack Nicklaus II who designed the WuYi course to join in the Ribbon-Cutting Ceremony.
Another attendee to the WuYi Cup and Opening Ceremony was Bob Hawke, former Prime Minister of Australia who is an old friend of the club.

WuYi Cup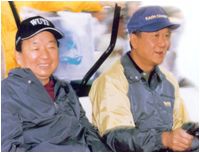 The WuYi Cup was part of the celebrations included in the opening of the clubhouse and the new nine holes. A two-day event was held and included two divisions ¡V one for golfers less than 60 years of age, and the other for those over 60.
The event began under cloudy and wet skies on October 20 and concluded the following day in slightly improved weather. The two winners in the competition for over-60s were Ling Bo-tang, the former governor of Guangdong province and Jerry Dillon (who flew in from the United States), champions of the gross and net events respectively.
| | | |
| --- | --- | --- |
| | | |
| Rong Gaotang | Rita Fan Hsu Lai Tai | Ho Hau Wah |