The Designer


To any keen golfer, a golf course is like a lover. It seduces, challenges, excites you and calms you. Emotions of love and hate mixed with pleasure and frustration. Every game is different; no two holes present the same aspect. The challenge is continuous. It lures you, ensnares you, tricks you, and rewards you. Playing a signature golf course is like experiencing a great mind at work. How would Nicklaus tackle a particular hole? Would he drive 250 yards to the left to open up the approach to the green? Or go for the tiger line to the right, carrying over the bunker placed there to trap the brave or foolhardy. The approach could be a 5-iron to the left or a 9-iron to the right. It is definitely a mind game and you are in control. You assess your skill level, your physical condition, your strength and your luck. Then you determine to beat the man his design, his course. For it is a great feeling when you conquer a signature hole. Nicklaus is the all-time great, a legend in golfing circles. You can share his vision in a course designed by him. All over the world you will find Nicklaus' designs and every one of them has a reputation for quality, excellent design and good management. For these reasons alone, WuYi Fountain Palm Golf Club will become a truly world class resort golf course.

The Golf Course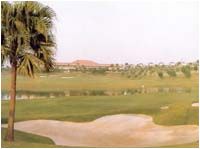 We believe that a truly great design is one the encourages the golfer to experience different emotions and so enjoy the total experience of the course.A course should one just challenge one's skill and management, but also provide the interest that lures one back again and again without ever becoming boring or predictable.

For a start, three loops of the nine create three interesting combinations by mixing East Course & North Course, West Course, each of par 72 and about 7000 yards. The undulating landscape provides many variations in the degree of difficulty with its contours around lakes, hills and valleys. Here is a course that will nurture a golfer's mental ability to assess the options when tackling each hole and once in a while present an easy one where they can relax a little.


You will not only thrill to a great round of golf, played in the peaceful rural setting of Jiangmen, but you will also learn more about the game! WuYi Fountain Palm golf Club, like all courses throughout the world that sport the Golden Bear signature, will develop into one of the greatest courses in the region. That we promise.

This golf course was designed to enhance the player's golfing experience by intensifying the many emotions that are encountered when playing the game of golf.

This was achieved by mixing together a good combination of golf holes that either challenge the golfer, require accuracy, make the player think of let the player rest.

The variety of this 27 hole golf course will be enjoyed by its members for years to come.